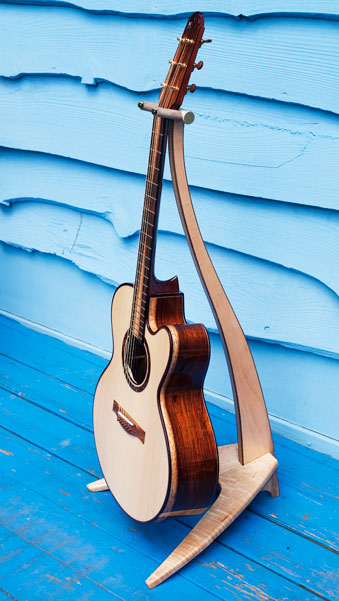 About Our Guitar Stands
Who hasn't heard of a guitar being inadvertantly knocked over while sitting in a typical guitar stand? Although everyone wants to protect their precious instrument, we also want our guitars close at hand ready for any lightning bolt of inspiration.
Until now, metal guitar stands have been the typical choice available to guitarists. Seriously lacking visual appeal, damaging to delicate finishes, and structurally deficient designs - these are just some of the problems inherent in most metal guitar stands.
About Us
Take a Stand guitar stands are designed by Stuart Mono, an industrial designer with over 25 years experience in design, art, and guitars. With a lifetime of playing, collecting, and building guitars, Stu holds a BS in Industrial Design from the University of Cincinnati and an MBA from NYU Stern School of Business.
A New Standard in Guitar Stands
Stu's designs provide a balanced low center of gravity for maximum stability. Minimal contact with the guitar's finish is an essential feature, as the contact points are surgical rubber covered with genuine leather, thus protecting the guitar's finish. These cushioned and leather covered supports are further secured to the graceful neck of the stand using internal hardened stainless steel pins.
Our stands are designed so that placing and removing your guitar is easy and safe. We eliminated the risk of damaging the guitar by doing away with unnecessary and complicated locking mechanisms. Unique shaped guitars like Gibson Flying V's, Explorers, and more standard electrics like Strats and Les Pauls hang free with no chance of cords getting tangled in the stand. So, not only are they elegant and graceful, they are safe and a pleasure to use.