Handcrafted Hardwood Guitar and Music Stands
"A designer knows he has achieved perfection when there is nothing left to take away."
-Antoine de Saint Exupéry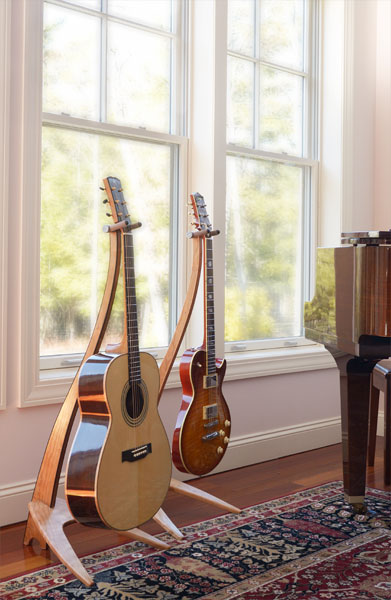 Our wood guitar and music stands are created as fine furniture – meticulously designed to be structurally sound, aesthetically beautiful and flattering to your guitar and its surroundings.
Solid hardwood - no plywood or particle board
Safe for all guitar finishes
Custom designed to your specifications
Secure and stable
Patented designs - D610835, D628830
At Take a Stand, we believe your guitar and music stands should enhance and complement your instrument. Whether your guitar is custom made, vintage or simply your pride and joy, discerning players appreciate the quality of our handcrafted stands. Take a Stand wood guitar stands are handcrafted using the finest hardwoods with wood trim accents, precision machined metal and genuine leather. As a gift or for yourself, they are dramatic artistic statements.